The Greek language is not one of the most easy, because it doesn't use the latin alphabet. But Greece being a touristic desination, they use to translate greek inscriptions into latin inscriptions.
The Greek alphabet count 24 letters, from alpha to omega::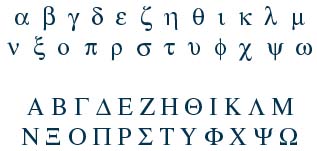 Here are some words and sentences (prononciation) we know. But in general, in the touristic places, the Greek people speak english and/or german:
yes: né (we could think that "né" means "no, but no, it means "yes"...)
no: ochi
today: siméra
tomorrow: avrio
good morning, afternoon: kaliméra
good evening: kalispéra
good night: kali nichta
hello: yassas, yassu
thank you: čfkaristo
please: parakalo
how are you ? (vous): ti kanité ?
how are you ? (tu): ti kanis ?
Every thing's good: ola kala
let's go: pamé
come on: élado
where is... ?: pou iné... ?
bedroom: domatio
street: odos
bus : léoforio
water: néro
wine: krassi
milk: gala
bread: psomi
fish: psari
egg: avgo
how much is it?: poso iné ?
with: mé
and: ké
hot: zesti
cold: krio
very (hot) : poli (zesti)
one café frappé with milk and some suggar: čna café frappé mé gala ké métrio
what time is it?: ti ora iné ?
1 : èna
2 : zio
3 : tris
4 : tèrcèra
5 : pèndé
6 : èksi
7 : èfta
8 : octo
9 : ènia
10 : dèca

20 : ikosi
30 : trianda
40 : saranda
50 : pèninda
60 : èksenda
70 : èvdominda
80 : octonda
90 : ènèninda
100 : èkato
1000 : chilia